Register now
Presented by
Hilary Seligman, M.D., M.A.S. June 29, 2023
1:00–2:00 p.m. ET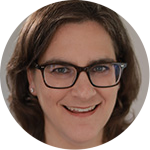 About the Webinar
Food insecurity is increasingly recognized as a critical determinant of health. Diet-related diseases are the leading causes of death in the United States. Clinical systems have expressed considerable interest in implementing "food is medicine" programs and interventions to address both food insecurity and diet-related disease. This webinar will explore what food is medicine means in the clinical setting, current program models, the state of the science demonstrating their impact, and selected research gaps.
About Hilary Seligman
Dr. Hilary Seligman is Professor of Medicine and of Epidemiology and Biostatistics at the University of California San Francisco (UCSF). Her work focuses on food insecurity and health outcomes across the life course, with a particular interest in programs and policies that can simultaneously support food security and better health. She has directed NOPREN (Nutrition and Obesity Policy Research and Evaluation Network) in partnership with the Centers for Disease Control and Prevention for the last eight years. Her team runs Vouchers for Veggies, a large produce prescription program known in San Francisco as EatSF. She also directs the UCSF School of Medicine's National Clinician Scholars Program.
Can't be there? A recording of this webinar will be available approximately 2 weeks after the session. You can view the full archive of previous Prevention in Focus webinars on the Office of Disease Prevention website.
This event is open to the public and there will be an opportunity to ask questions at the end of the presentation. Please feel free to share this information widely. This webinar will be captioned in real time. Individuals needing reasonable accommodations should contact [email protected]. Requests should be made at least 5 business days before the event.